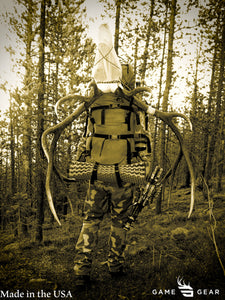 Bow Hunting
For the last 2 years we have worked to develop an early season apparel line that was catered toward the hardcore bowhunter. What we came up with was our Catori line. We focused on the discomforts we found while hunting in remote areas and built it up from there. Everything from being horseback in a saddle for hours on end to hauling a 60+ lb pack for miles a day, day after day.  
Our fabrics are a balance of quietness and toughness. We wanted something quite but something that was also tough enough for multiple hunts and seasons. We chose a fabric for the pant that is called Stretch Weave. It is 100% Quiet Nylon Flatback Mesh that weighs only 6.2 Oz per Sq. Yard. Very light and tough with exceptional breath ability that will wick moisture all day. We then incorporated a guested crotch, longer inseams, articulated knees, reinforced pocket corners, reinforced belt loops and ergonomically placed thigh pockets. This made for one heck of a pant that we could not be more pleased with. Try a pair for yourself and you'll see what we mean.
Next was the Catori 1/4 zip shirt. Also built up from the discomforts we have had on long remote hunts. The reality of you wearing your hunting shirt, on these types of hunts, all day long is almost guaranteed. This means it will most likely be under a heavy pack and need to breath as well as have 0 restrictions for drawing your bow. For this shirt we chose a fabric that is called Elite Stretch. It is 73% DL Polyester, 27% Spandex and weighs a mere 5.2 Oz. per Sq. Yard and has Eyelet Ventilation with 4 way stretch capabilities. We then incorporated a longer tail, flat sewn seams, mock neck, 8 inch vent zipper in front, zippered left chest pocket and an option of compression sleeves or traditional sleeves. The compression sleeve is something we have never seen in an outer layer garment and really have became fond of. Its the perfect shirt to wear all day and still have 100% movement, breath ability and 0 obstructions between you and your bow string. We are confident if you are an archer of any kind you will love this Bowhunter catered line of apparel. Not to mention 100% made in the USA!
---
3 comments