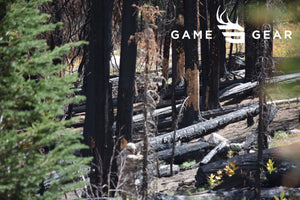 Hunting and Our Pattern
As we begin to finish up our current research and development of new gear, we can't help but pause on occasion to admire filed photos as well as  photography of our gear and pattern at work in the field. One particular photo that stopped us in our boot tracks was a photo of Jerad Cotten from www.westelkoutfitters.com and his beautiful Utah muley. If this old buck don't drop your jaw we're not sure anything could. Congrats Jerad. 
 Also the featured photo for this blog post of Kyle Whalen from Buku Calls at full draw on a highcountry mule deer in the Idaho backcountry. Might want to zoom in on that one. Hunter and bedded buck in the same photo. 
We would like to say thank you to all of our partners and outfitters for sharing their success with us. Stay tuned for more success photos and updates on our new additions. #merinowool #gaiters 
---