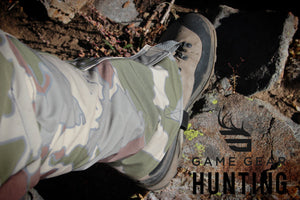 Hunting Gear and New Additions
We have spent the better of a year engineering and designing our new Boot Gaiter. We are a short period of time away from releasing it and couldn't be more excited. We have designed a lace attachment made from very durable climbing webbing along with a industrial grade snap that will snap under the Gaiter and lay against the lacing on your hunting boot. This in turn will keep it snapped with mild pressure on the snap at all times. We also used our Shield Light Fabric https://gamegearhunting.com/pages/fabrics on the outside and inside of the Boot Gaiter for double the water protection. This means two Dintex Membranes working to keep the water out and little to no ice/snow build up no matter the temps. The top of the Gaiter is another band of climbing webbing with a compression buckle. We increased the width of the webbing band and buckle to assure ALL DAY comfort and functionality. Industrial strength Velcro, metal stirrup buckle and stirrup strap finishes off the Gaiter.
Along with the coming addition of our Boot Gaiter we just added to the website or new Neck Gaiter. This performance Neck Gaiter is made from our Heat Tech Fabric https://gamegearhunting.com/pages/fabrics. Very moisture managing with a 4 way stretch and you can breath through it knowing it will dry in seconds. 
Check out the Neck Gaiter here: https://gamegearhunting.com/collections/mens/products/neck-gaiter?variant=29748568396 
Stay tuned to our blog for the latest in our developments and new additions. We are also working on Video descriptions and break downs of every piece of apparel. 
---