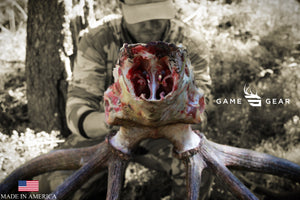 Technical Hunting
We are frequently asked about our apparels functionality and if the garments we build are for technical hunting. Well the answer to that question is yes and what do you consider technical hunting? 
When we began our venture into the the hunting apparel industry we envisioned a goal of creating a line of apparel that not only had every capability that other leading brands had but to add an element of toughness that the hunters we are targeting have. We wanted a finished product that a hunter could purchase and would be able to withstand what he/she could put it through as well as keep up and provide itself as a tool for succes. Without having to purchase the same pant/shirt every season. 
The term "Technical Hunting" can be put into many different levels of hunting. Is a whitetail hunter that puts in a year round effort to end it all by sitting in a stand for 8 hours and arrowing his buck of a lifetime a technical hunter? Absolutely. How about a sheep guide who lives breaths and functions in some of the world toughest terrain. Only to see his family a few months out of the year and make us western muledeer and elk hunters cry like babies on our first sheep hunt? Absolutely. The level of toughness we talk about can be as much mental as physical and we have spent 6 years now developing a brand of hunting clothing that you can rely on physically as well as mentally. Not only does all the garments in our lineups provide everything from full range of movement to moisture management. It also provides a toughness and quality in our fabrics you can absolutely rely on and forget about. You can see the American pride in our craftsmanship. Guaranteed! 
So the Technical Hunter wether your a whitetail hunting machine or the toughest sheep guide/hunter on the planet you can absolutely rely on our apparel to keep up and last as long as you do. 
 As the western archery hunts grow near we would like to say good luck this season and extend the offer of free shipping on all orders. We hope the money you save can be added to your successful season. Good luck to all you western archers. 
---